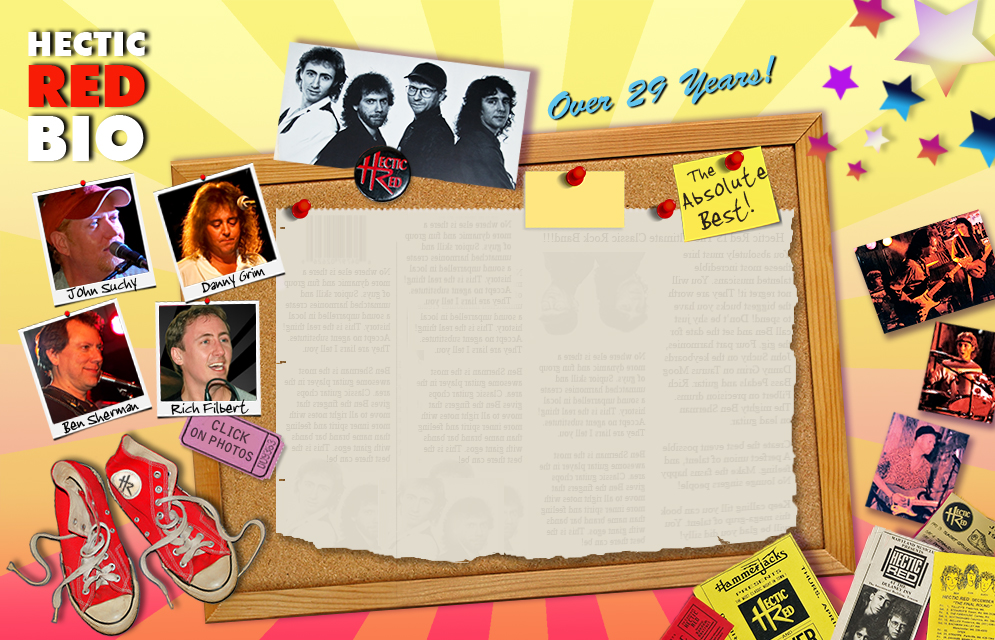 The Same
Four Guys!
In 2018 Hectic Red celebrated something rare in the music business - 31 years together with the same four members. Hectic Red started in 1987 with Danny Grim on bass, John Suchy on keyboards, Rich Filbert on drums and Ben Sherman on guitar. All four already had many years experience in top local bands, but this time they had a different idea. The stated purpose was simply to have fun and play great music,
regardless of commercial success. 28 years later, they are still doing exactly that. The Dulaney Inn in Towson was where the band first established themselves. Over the years, Hectic Red has developed a loyal following with fans across Maryland. With their support the band has been able to play many unforgettable shows at places like Rams Head Live, Towsontown Spring Festival, Frederick's July 4 Festival and Baker Park concert series, and the Recher Theatre.
Fans appreciate the band's top-notch musicianship,
vocal prowess (all four members sing lead and



backup vocals), their un-matched songlist (Beatles,
Steely Dan, Genesis, CSN, Rush and Queen to name
a few) and their genuine enthusiasm and camaraderie.
Website design copyright © 2016 by Crystal Visions Art and Hectic Red. Hectic Red logo by Duane Regula.